The QQQ's failed at the $318 area resistance again this morning. Despite the CPI figure coming in at 5% for the year through March vs. 5.2% expected. CPI for the month was 0.1% vs the 0.4% which was also better than expected. However, despite inflation coming in lower than expected, that was not enough for a positive reaction so far off the open and the QQQ's are trading lower.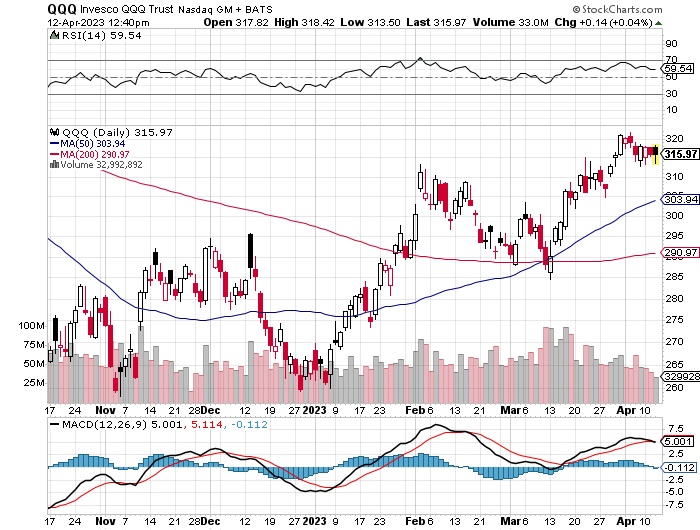 The QQQ's are trading near $313 which has been prior support.
Above it, targets to the upside are $315, $318, $320, $321.63, $323 and $330 above that.
Below $313, targets to the downside are at $312 and $309.
Below $309, there is a gap to fill at $307.12 with potential support at $306 with $304 and $302 below that. Then there is the psychologically important $300 level in the QQQ's.
About InvestorBrandMedia.com – The team at InvestorBrandMedia has decades of strategy-driven, extensive media experience in helping navigate our clients through the everchanging Digital Landscape. We specialize in a variety of marketing strategies that help promote our client visibility across multiple channels helping them expand their digital footprint in an ever-complex environment. InvestorBrandMedia.com specializes in ticker tagging services. Targeting the right audience is essential. Without effective distribution, a company's message will fall on deaf ears or play to an empty room. Our growing distribution network consists of a diverse network of finance-focused blogs and websites, producing a robust mix of organic and cultivated interest. Let us help you jumpstart a rich following of qualified leads you can build on. Ticker Tagging is the process wherein your company is included with other sector-related NASDAQ, NYSE, and AMEX companies showcasing your news within a ticker-tagged PR. The ticker tags are distributed to approximately 400 business and financial news portals including Benzinga, Yahoo, Google News, Digital Journal, and MarketWatch. Companies looking for IR/PR services can contact us directly at [email protected].