We broke through the 50 SMA yesterday with a strong move higher as SPY closed up nearly $4 per share. Next chart high to focus on will be $453s and then $459s. Keep in mind we have a Fed rate decision this coming Wednesday so things could get volatile, but right now it seems Wall Street like this uptrend. If SPY dips, then the 50 SMA around $447 becomes focus #1 then the 20 SMA around $445/$444 becomes focus support #2. There seems to be a lot of range left to close the week and if things get strong again today, watch for that possible test of $453/$454 area.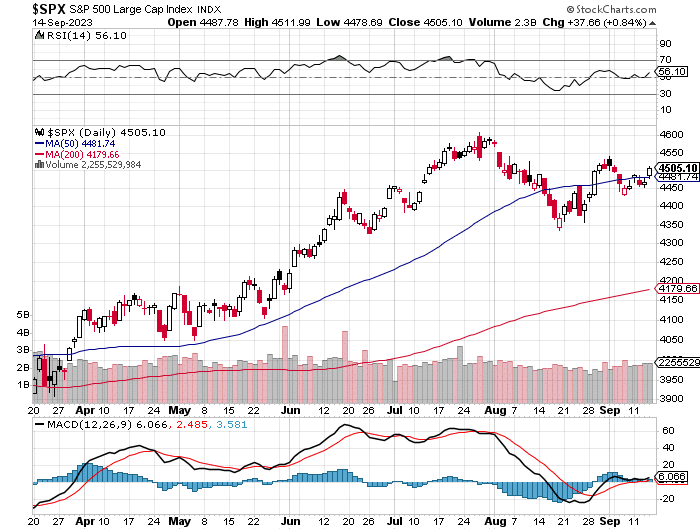 Arm Holdings Soars in U.S. Markets Following NASDAQ Launch
Arm Holdings saw its stock value climb by an additional 6%, sustaining the momentum it built following its introduction to the Nasdaq earlier this week.
By 6:10 a.m. ET, this UK-based semiconductor design firm saw its stock price hovering slightly above $67. This spike brought the company's valuation to an impressive mark exceeding $72 billion. Despite achieving even higher valuations earlier in the day, a minor pullback occurred as the market opened.
This rise in value is a continuation from Thursday when Arm Holdings experienced an impressive 25% increase on its maiden trading day. When the shares for this much-anticipated IPO were first released, they were set at $51 apiece, placing the company's valuation at approximately $54.5 billion.
Despite the enthusiastic reception, Arm's stock price is still trading at a notable premium when compared to industry behemoth Nvidia. This has raised eyebrows in the analyst community, with some voicing reservations about the sustainability of such valuations.
Ben Barringer, an equity research specialist from Quilter Cheviot, shared his insights on CNBC's "Squawk Box Europe," stating, "The current pricing does seem on the steeper side. Many investors are likely holding back, watching keenly to see how Arm Holdings capitalizes on current market trends."
Interestingly, SoftBank, which took Arm Holdings under its wing in 2016, has only released about 10% of the company's shares to the public, maintaining a dominating 90% stake. It's worth noting that SoftBank's approach to investments, especially given the substantial losses reported by its Vision Fund tech wing in the previous financial year, has been a point of contention. This sentiment might have influenced some investors' hesitance towards the Arm IPO.