Shares of Titan Medical Inc (NASDAQ:TMDI) last traded at $0.2450, a gain of $0.1105 (+82.16%). More than 123,665,374 shares exchanged hands compared to an average daily volume of appx 3M shares.
Titan Medical Inc, a medical device company, announced new executive leadership changes, with David McNally appointed as the Chief Executive Officer and Director of the Board, and Brent Norton serving as the Chairman of the Board. The company plans to focus on the development and commercialization of its robotic surgical system and strengthening its global patent position. McNally and Norton have a wealth of experience in the healthcare industry and are expected to provide the necessary leadership to drive the company's growth and success.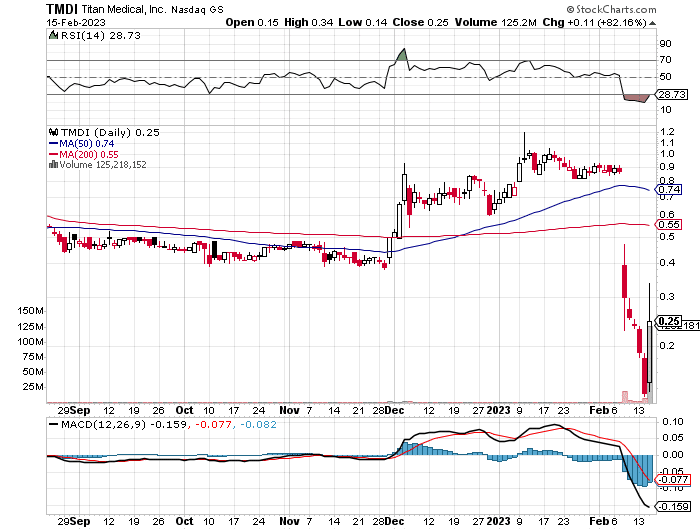 Earlier, Titan Medical Inc. had provided a corporate update highlighting recent accomplishments and key priorities. The company has made significant progress in the development of its robotic surgical system, which is expected to provide minimally invasive solutions to various surgical procedures. Titan Medical has also strengthened its global patent portfolio, with 54 issued patents and 60 pending applications. The company's focus in the coming year is on completing the system's regulatory submission, commencing clinical studies, and advancing commercialization efforts. Titan Medical is well-positioned to disrupt the surgical robotics market and has the support of a strong leadership team and strategic partners.
Could this be a NASDAS compliance play that is working towards the 1$ NASDAQ listing compliance rule ? Stay tuned for more updates.