A few days back, BigBear.ai Holdings Inc (BBAI) was trading at just under $2. The stock ran to the middle $2's prompting traders to book gains. Interestingly, since then, BBAI has held up very well and with low dilution risk a breakout of $4 resistance could prompt a massive rally in our opinion. The company has 6.9 months of cash left based on quarterly cash burn of -$12.8M and estimated current cash of $29.5M. Today, BBAI last traded at $3.9800 with a gain of 1.5600 (+64.46%).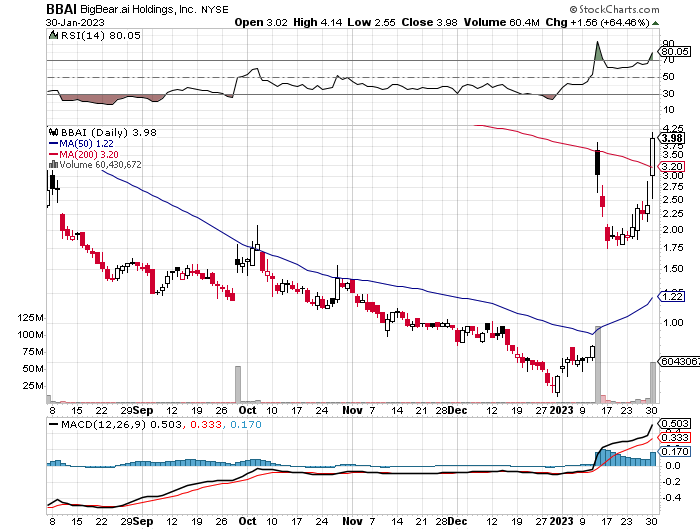 The recent news with the U.S. Air Force is an open ended catalyst. BigBear.ai (NYSE: BBAI), a top provider of AI analytics and cyber engineering, announced it won 2023 "Best Place to Work" by Built In. The company was recognized as one of the Best Places to Work in San Diego and Washington DC and also as one of the Best Midsize Places to Work in Boston, San Diego, and Washington DC, marking its first time receiving these honors.
BBAI announced it won a $900 million IDIQ contract from the U.S. Air Force. The contract gives BBAI the opportunity to compete for task orders as a prime contractor, providing capabilities, systems, and synthetic environments to the Air Force. The work on awarded task orders is expected to be completed by 2032, as per the Air Force Life Cycle Management Center's Architectures and Integration Directorate.