Esports Entertainment Group Inc (GMBL) last traded at $0.1580+0.0740 (+88.10%). Post market, GMBL traded at $0.2220 +0.0640 (+40.5063%). The stock currently has a 52 week high of 3.7$. Does this mean that GMBL is the meme stock in the making ? Let's take a look at some of its recent news releases.
On Jan 5th, Esports Entertainment Group, Inc. (NASDAQ: GMBL) (NASDAQ: GMBLP) (NASDAQ: GMBLW) (NASDAQ: GMBLZ) (or "EEG") announced that its Board of Directors has declared a cash dividend to be paid monthly for January 2023 for its 10.0% Series A Cumulative Redeemable Convertible Preferred Stock ("Stock A Preferred Stock").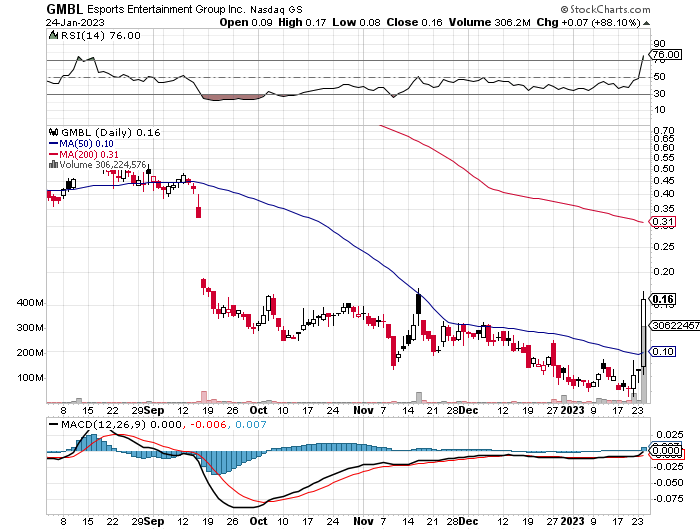 Esports Entertainment Group (NASDAQ: GMBL) is a comprehensive esports and online betting company. Currently, it operates in three main areas: Games, iGaming, and Technology. Under the Games segment, it offers a wide range of services and infrastructure for companies to interact with esports and gaming communities globally, including Esports Gaming League (EGL), which boasts a community of over 350,000 gamers on its own tournament platform EGL.tv. The iGaming segment includes several award-winning brands that cater to traditional online sports betting as well as international casino operations. Lastly, the Technology segment focuses on creating cutting-edge platforms, features, and services for the Millennial and Gen Z demographics, as well as brands looking to connect with them. EEG has offices in New Jersey, Estonia, the United Kingdom, and Malta.
Back in December, the company appointed Alex Igelman as its new Chief Executive Officer ("CEO") following the departure of Grant Johnson on December 3, 2022, who served as Chairman and CEO. Igelman brings over 30 years of experience in the gaming industry, including his background as a gaming lawyer and co-founder of FairP2P and Esports Capital Corp., companies that have been leaders in their respective fields. He has held various senior leadership positions throughout his career in the gambling and gaming industry.
It will be interesting to see if GMBL manages to cross above the 1$ mark. The NASDAQ $1 rule is a listing requirement for companies listed on the NASDAQ stock exchange. The rule states that a company's shares must maintain a minimum bid price of $1 or higher in order to remain listed on the exchange. If a company's share price falls below $1 for 30 consecutive business days, the company will receive a notice from NASDAQ that it is not in compliance with the rule and that it has 180 calendar days to regain compliance. If the company is unable to regain compliance within this time period, its shares will be delisted from the NASDAQ. This rule is implemented to ensure that listed companies have a certain level of financial stability and liquidity.