Helbiz, Inc. (NASDAQ:HLBZ) last traded at $ 0.2037+0.0806 (+65.48%). The stock added another 20% post market and looks like this might be just the beginning if it becomes a meme stock. HLBZ has a 52 week range of $0.1110 – $4.4200. More than 622,211,501 shares exchanged hands compared to an average volume of 29,105,336.
Technical Chart Analysis: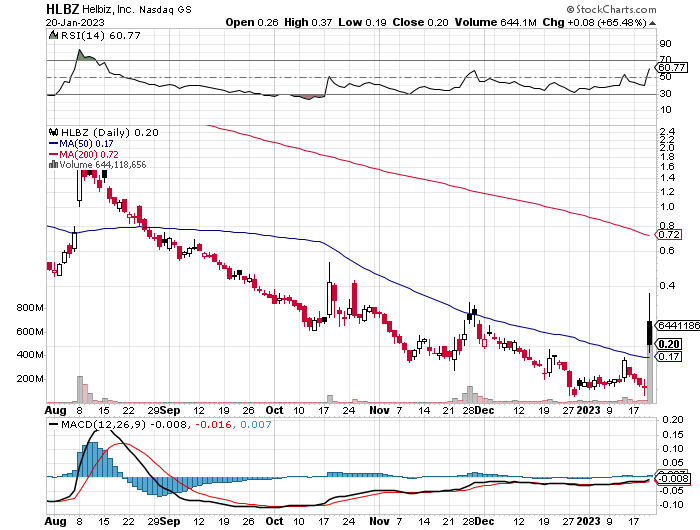 Short selling on HLBZ:
Helbiz, a provider of electric shared micro-mobility solutions, announced that its Board of Directors is examining measures to address alleged illegal short selling of its stock. The company believes that some individuals or companies may have engaged in practices that artificially depressed the stock price, and is evaluating options and creating a plan to address the issue, similar to the Genius Group. The CEO of Helbiz, Salvatore Palella, will also meet with parties interested in resolving the potential short selling issue.
Recent News:
Earlier, HLBZ had announcedthat it will be shutting down operations in markets that are not profitable or cash-positive by spring 2023. This decision was made after a thorough review of the company's operations showed that certain markets lack the necessary conditions for profitability in the near term. These markets have weak regulatory frameworks, high levels of competition, an oversupply of vehicles, and crowded streets, which all make it difficult for the company to make a profit.
For the newbies out there, Short selling is a trading strategy in which an investor borrows shares of a stock from a broker and sells them on the open market, with the hope that the stock price will decrease. The investor can then purchase the shares back at a lower price, return them to the broker, and pocket the difference as profit. It's considered as a bearish strategy, because the investor is betting against the stock. This can also be considered as a high-risk strategy, because if the stock price goes up, the investor will have to buy back the shares at a higher price, resulting in a loss.