FingerMotion Inc (NASDAQ:FNGR) last traded at $3.37, a gain of over +1.52 (82.16%). More than 31,728,849 shares exchanged hands compared to an average daily volume of 208K. FNGR has a 52 week high of $9.25 and considering the current pps there may be a lot of room to the upside.
So why did FNGR surge today ?
While there was no apparent news today, looks like the old press release issued by the company may be circulated among traders and investors. FingerMotion, Inc. (Nasdaq:FNGR) had announced that it had signed and closed a funding agreement for gross proceeds of $4.0 million with Lind Global Fund II, LP , an investment fund managed by The Lind Partners, a New York-based institutional fund manager.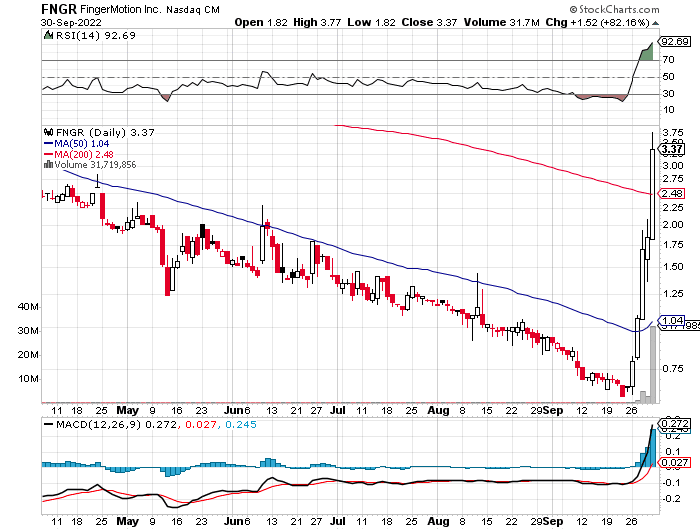 FNGR is a mobile data, services, and big data analytics company. Earlier, in July, the company had last announced its Q1 2023 Financial Summary and reported record quarterly revenue of $4.86 million (includes SMS & MMS and Telecommunications Products & Services businesses). FNGR had also reported quarterly decline in SMS & MMS business revenue of $.82 million or 20% compared to Q1 2022. FNGR had officially launched its device protection insurance program that has the potential for compounding growth month over month if subscriber growth hits expected targets," stated Martin Shen, CEO of FingerMotion. It also appears that retail traders may be involved in today spike. It would be interesting to see if the company issues any statement on the recent price action.