The QQQ's gapped lower as a bit of panic sets into the overall market. Rate fears continue as the 10 year yield continues to climb.
$360 is now the first potential resistance in the QQQ's with $364, $370 and $372 next. Above that, the next targets are $378.10, $380 with a gap fill to $382.79 above that. The QQQ's 12-month highs are at $387.54. Beyond that, targets to the upside are $390 and then $400.
The first potential support is now around the $355 area. Below that the next targets to the downside are $354.50, $349 and $340.
Carvana (NYSE:CVNA) – Carvana has had a nice pullback as market expected in recent days. It appears short term peak market panic could be in and now is a good chance to get long some oversold stocks. CVNA is bouncing today off a major support level and seems there could be a nice move higher here in the short term as shorts cover and some dip buyers step in.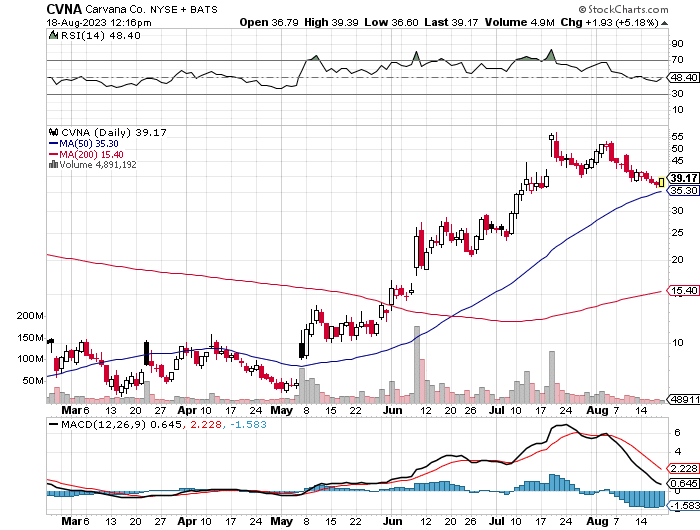 Please make sure to read and completely understand our disclaimer at  InvestorBrandMedia.com/Disclaimer. FOR EDUCATIONAL AND INFORMATION PURPOSES ONLY; NOT INVESTMENT ADVICE. Any content posted on our website is for educational and informational purposes only and should NOT be construed as a securities-related offer or solicitation, or be relied upon as personalized investment advice. BioPharmaJournal.com strongly recommends you consult a licensed or registered professional before making any investment decision. Neither BioPharmaJournal.com nor any of its owners or employees is registered as a securities broker-dealer, broker, investment advisor (IA), or IA representative with the U.S. Securities and Exchange Commission, any state securities regulatory authority, or any self-regulatory organization. BioPharmaJournal.com often gets compensated for advertisement services that are disclosed on our disclaimer located at BioPharmaJournal.com/Disclaimer.