Despite prevalent macroeconomic concerns in 2023, Axon Enterprise (NASDAQ: AAXN), the Taser manufacturer, continues to thrive, making it a standout stock for experienced investors. With an almost 30% increase in shares this year, Axon is poised for its eighth consecutive year of gains. Even amidst market turbulence due to a global banking crisis, the stock remains resilient, demonstrating losses only twice in the past 15 years.
Axon's impressive performance is partly attributable to its diversification beyond its core Taser product into a comprehensive portfolio, including body cameras, as public scrutiny of police conduct intensifies. According to Joshua Reilly, a senior analyst at Needham, Axon has successfully transformed the Taser into a multiproduct ecosystem. The company's optimistic outlook forecasts over $2 billion in revenue by 2025, equating to an average annualized revenue growth exceeding 20%.
Reilly also anticipates that the latest Taser iteration will stimulate an upgrade cycle akin to those observed when Apple (NASDAQ: AAPL) unveils new iPhone models. This dynamic will not only prompt replacement of older Taser models but also expand Taser's market both domestically and internationally.
Let's take a look at the AXON chart below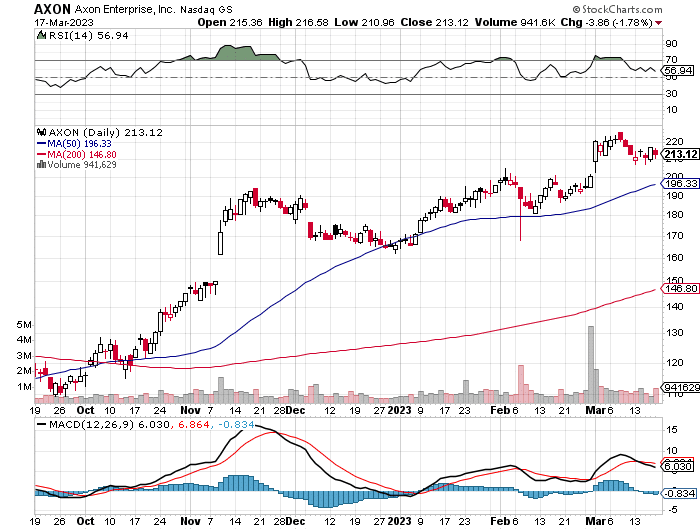 The stock closed at $216.98 in the previous trading session, and opened at 215.36 on Friday. The current bid stands at 212.61 with a size of 1,000 shares, while the ask price is 213.12 with a size of 800 shares. Friday's trading range was between 210.96 and 216.58, and the 52-week range is from 82.49 to 226.00. The trading volume on Friday was 941,629 shares, compared to an average daily trading volume of 754,525 shares.
Other companies in Axon Enterprise's space includes: Leonardo DRS (NASDAQ:DRS), Aerojet Rocketdyne Hldgs (NYSE:AJRD), Rocket Lab USA (NASDAQ:RKLB), BWX Technologies (NYSE:BWXT) and Textron (NYSE:TXT).