Salesforce Inc (NYSE:CRM) stock lost more than 8% today and last traded at $147. The stock was down a smidgen post-market. In its latest earnings call, the company announced that co-CEO Bret Taylor will be stepping down. The software maker beat revenue and earnings expectations Wednesday for its fiscal third quarter.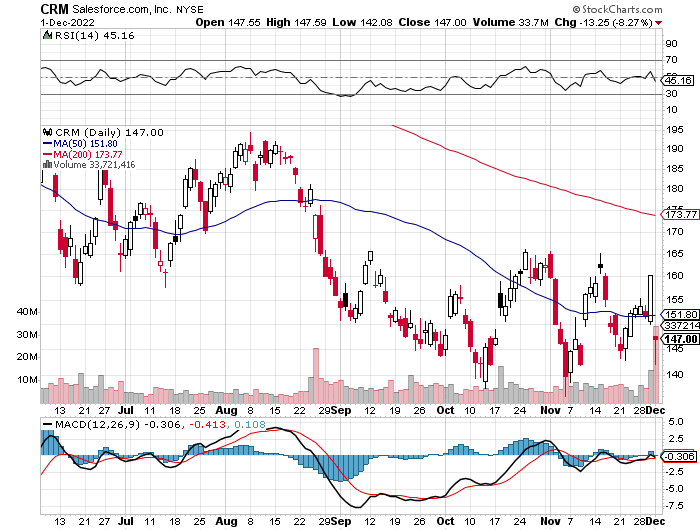 Morgan Stanley also reiterated its overweight rating on Salesforce. Sales Force reported sales growth of 22% from a year ago back in August, but it also cut its revenue and profit forecasts at the time.
Wall Street analysts remain bullish on CRM. According to data from Refinitiv, 40 of the 50 analysts that cover the company have a "buy" rating on the stock. (The remaining 10 have a "hold." There are no "sell" recommendations.)
Other companies in Salesforce's space includes: SAP (NYSE:SAP), Intuit (NASDAQ:INTU), Ceridian HCM Holding (NYSE:CDAY), Datadog (NASDAQ:DDOG) and Fair Isaac (NYSE:FICO).
For breaking news alerts visit https://investorbrandmedia.com/