Shares of Nexoptic Technology Corp (OTCMKTS:NXOPF) have surged over 155% in the past 6 months. At the time of this publication, NXOPF is trading at $0.7625 with a gain of $0.1075 (+16.41%) for the day. Over 445K shares have exchanged hands today compared to an average trading volume of 223.8K shares. The stock currently has a 52 week range of 0.1432$ to 0.7793$.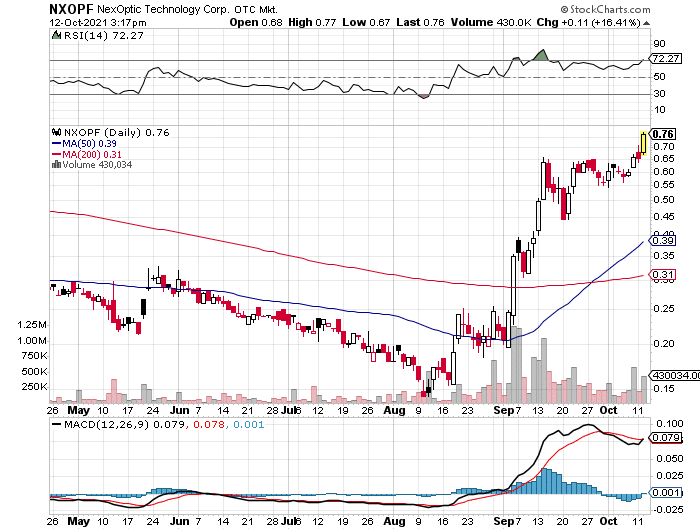 Recently, the company had announced that it has made significant tangible progress in the development, refinement, and deployment of new AI technologies, adding to its revolutionary AI imaging pipeline, ALIIS™
"As we drive our existing technologies closer to broad commercialization," said Richard Geruson, Chairman of NexOptic, "we are executing our plan of staying at the forefront of what's possible by continuing to deliver new AI capabilities for imaging before others even imagine it."
The United State Patent and Trademark Office (USPTO) has issued Patent No. 11,132,771 titled "Bright Spot Removal Using a Neural Network." 
Looks like this small cap company caught the eye of Qualcomm. Qualcomm featured Aliis in its 5G Summit 2021 press kit announcing the new 700-series chipset for mobile devices: the Snapdragon 778G, and a recent webinar hosted by ARM and their Senior AI Ecosystem Manager set a live global audience attendance record. Ongoing marketing support from our partners is anticipated. For more information, visit www.nexoptic.com/aliis.
Today's increased trading activity suggest more news may be in the making. It would be interesting to see what big board companies may be interested in NXOPF's patented ALIIS technology. Could ALIIS be helpful for Tesla Inc (TSLA) ? As always its important to follow traders vigilance when dealing with penny stocks.