The QQQ's are trading around flat this morning after gapping slightly lower on the open.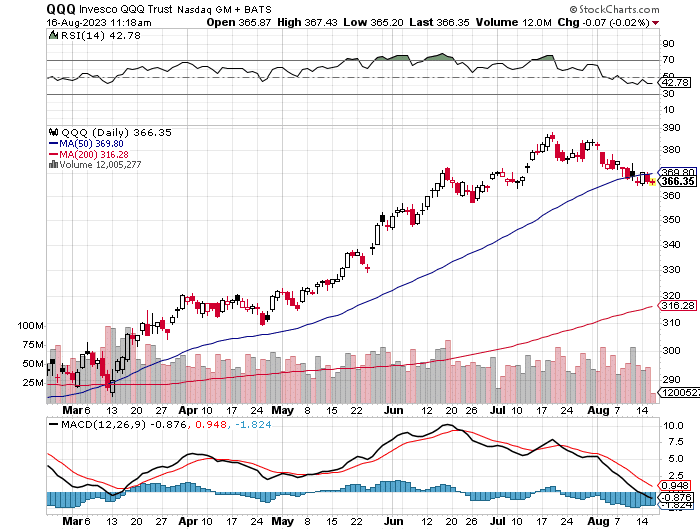 $370 is now the first potential resistance in the QQQ's with $372 next. Above that, the next targets are $378.10, $380 with a gap fill to $382.79 above that. The QQQ's 12-month highs are at $387.54. Beyond that, targets to the upside are $390 and then $400.
The first potential support is now around the $364 area. Below that the next targets to the downside are  $362, $360, $357 with a gap to fill at $354.50.
NVO –   Novo Nordisk A/S (NVO) is a healthcare company that engages in the research, development, manufacture, and marketing of pharmaceutical products worldwide. Last week the company announced that one of its drugs reduced the risk of major adverse cardiovascular events by 20% in adults with overweight or obesity. The stock gapped up to all-time highs on the news, and continues to hold higher. NVO is making a flagpole pattern, and if it can break out here we think there is potential to go much higher.
ANET – Arista Networks crushed earnings and issued positive guidance in early August. It gapped up big on the news and has consolidated near all time highs for a few weeks now, despite the overall market selling off. This is an example of relative strength. ANET seems primed for a breakout higher and a continued move higher to new all-time highs. 
Disclaimer: Please make sure to read and completely understand our disclaimer at  InvestorBrandMedia.com/Disclaimer. FOR EDUCATIONAL AND INFORMATION PURPOSES ONLY; NOT INVESTMENT ADVICE. Any content posted on our website is for educational and informational purposes only and should NOT be construed as a securities-related offer or solicitation, or be relied upon as personalized investment advice. BioPharmaJournal.com strongly recommends you consult a licensed or registered professional before making any investment decision. Neither BioPharmaJournal.com nor any of its owners or employees is registered as a securities broker-dealer, broker, investment advisor (IA), or IA representative with the U.S. Securities and Exchange Commission, any state securities regulatory authority, or any self-regulatory organization. BioPharmaJournal.com often gets compensated for advertisement services that are disclosed on our disclaimer located at BioPharmaJournal.com/Disclaimer.