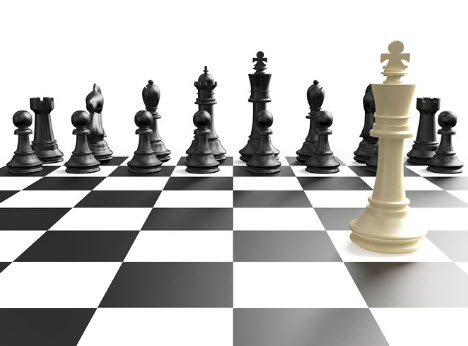 The title of the piece introduces an interesting question.
It is always tough to discuss valuation, as a concept, for a pre-revenue company. While Clubhouse Media Group Inc (OTCMKTS:CMGR) isn't actually pre-revenue, we can discuss it as such because it has barely scratched the surface of its true monetization potential given its built-in network-effect capital.
Hence, in this piece, we will forego any reference to its current commercial performance because we believe that would be misleading in gauging what's possible here.
A good way to think about this company is like watching people play a game of Monopoly. You might imagine that a game of Monopoly could reach a point where one player has very little in the way of cash, but owns all the highest priced squares on the board. At that point, you would be able to make assumptions about monetization that suggest that player – despite their relative underperformance in cash assets – is destined to win the game as things play out.
It's a question of strategic positioning. It's also a question of how we measure asset values.
Social Media Reach is an Asset
We would argue that, in this day and age, social media reach is an asset. However, our modern accounting system can't account for that asset as a balance sheet value. You will never see "300 million social media followers" as a line item on a balance sheet.
But it would make sense from a business standpoint, wouldn't it? In fact, how can you value a company like this without taking that factor into account?
Yet, there it is. Clubhouse Media Group Inc (OTCMKTS:CMGR) has a social media reach nearing 300 million people. But that isn't listed anywhere in its financials.
We would suggest that this is an asset with enormous implied value. It enables so many powerful routes to eventual monetization – including marketing strength, branding capacity, sales, partnerships, and public relations. It's a powerful asset that's difficult to value.
We would also argue that it lines up as a tailwind that will grow stronger with time based on trends already observable in the world. In other words, this asset grows in value on its own.
Furthermore, CMGR has seen its social media reach double in the past 6 months. So, it is not only massive and growing in value on a per-unit basis, but rapidly growing in term of units.
As far as we can tell, the market isn't pricing in this asset, or its growth trend, at all for CMGR shares. That fact, in itself, could represent an important opportunity for speculators.
Other Intangible Assets
The key in the above discussion for Clubhouse Media Group Inc (OTCMKTS:CMGR) is the idea of attempting to value a stock by incorporating ideas about the value of assets to which it is difficult to assign a financial "score". Just as "social media reach" is tough to score in traditional accounting metrics, so are personnel and new technology innovations.
But we would argue this is precisely the purview of "speculation" in the stock market. If everything were easily quantifiable, the market would be perfectly efficient, and speculators would have no opportunity to profit outside and above typical market-centered trends.
In other words, there would be absolutely no point in stock-picking. One should simply buy the SPY and forget about stocks.
However, we know that isn't the reality. Speculative investors can pile up large gains, especially in extended bull markets. Individual stocks do outperform as the crowd eventually figures out that intangible advantages are going to become highly tangible.
CMGR, as discussed above, has several such advantages, most notably of which is its massive and rapidly growing social media reach. But we would also highlight two other key areas.
Personnel
CMGR has a big advantage growing in terms of key personnel after two major players were added over the past three months.
The company recently announced that Andrew Omori, partner at renowned venture capital firm Andreessen Horowitz (www.a16z.com), is coming on board as a key member of the Company's official Advisory Board. Andreessen Horowitz is well known for leading investments in hit social audio app, Clubhouse, as well as Airbnb and Coinbase.
"a16z" is already known as one of Silicon Valley's most prominent and successful venture capital firms, with $17.6 billion in assets under management. Prior to joining a16z, Andrew served as a VP at JMP Group and as a successful technology investment banker. Andrew has dedicated his career to helping technology companies scale and has worked with a variety of social companies including Snap, Pinterest, Roblox, and the Clubhouse app. His current firm, a16z, was founded by tech titans Marc Andreessen (co-founder of Netscape) and Ben Horowitz (best-selling author and founder of Opsware).
As an early-stage investor in Facebook, Instagram, Lyft, Slack, Oculus VR, Roblox, and many other successful breakthrough technology companies, a16z has developed a reputation for spotting core trends in their early stages and identifying landmark opportunities ahead of the crowd. The firm has also been a significant investor in pre-IPO fintech unicorn, Robinhood.
CMGR also recently announced the addition of Perry Simon, former General Manager at PBS, former Managing Director at BBC Worldwide America, former President of Viacom Productions, and former Executive Vice President of Primetime at NBC Entertainment, to its official Advisory Board. Simon is no stranger to mass media success – he helped develop and supervise some of television's most iconic series, including "The Cosby Show," "Cheers," "The Golden Girls," "Law and Order," "L.A. Law," "Miami Vice," "Frasier," and "Seinfeld", winning multiple awards along the way (Golden Globes, Emmys, and Peabodys).
"Perry is an iconic figure in the entertainment and media landscape and a genuine thought leader in the field of mission-driven mass media," commented Young. "Having him on board is a game changer, given his depth and breadth of knowledge and experience, as well as his monumental industry access. He has been a central figure in the entertainment space for the past 35 years, building a network that likely rivals anyone in the industry, and consistently delivering when it comes to identifying and positioning talented people in the creation of impactful and engaging media content that scores with large audiences."
Technology
Clubhouse Media Group Inc (OTCMKTS:CMGR) also has important technology assets that have to be taken into account when assessing its future growth potential. One of the most important such assets is its recently acquired wholly owned subsidiary, Magiclytics.
According to the company's most recent release, Magiclytics is now live and had signed its first client: Pink and Blue Co, a California-based online jewelry and fine goods company focused on commemorative pieces related to childbirth.
According to the release, as a primary feature of this client relationship, Magiclytics will provide Pink and Blue with an understanding of the historical performance of its previous influencer campaigns on Instagram.
It will also deploy its proprietary AI-driven predictive analytics technology to identify and match Pink and Blue with the right influencers to use in future campaigns and generate predictions about the performance of future influencer campaigns down to an exact dollar amount forecast. "Pink and Blue offers an excellent case study example of how Magiclytics can provide deep and disruptive value in the social media marketing space," commented Wilfred Man, Founder and CEO of Magiclytics.
"The Pink and Blue team knows how to produce amazing fine goods for their niche consumer, and they know influencer-based marketing is the best way to build their brand. But they have previously lacked visibility in trying to implement influencer-based marketing strategies – like driving in an unfamiliar area with no GPS or map. Magiclytics has proprietary analytics that can offer unique guidance and intelligence in that process, including how much response to expect and how to maximize it. We look forward to helping Pink and Blue find breakthrough success."
…
COMPENSATION DISCLOSURE: Section 17(b) of the 1933 Act requires publishers to disclose who paid them, the amount, and the type of payment. In order to be in full compliance with the Securities Act of 1933, Section 17(b): Tiger Global Management Partners LLC has compensated a third party to produce and present weekly content for various companies for the publication. For more information, please click here. In addition, this article is part of JournalTranscript.com Networks. JournalTranscript and network websites have not been compensated for distribution of this content. Read the JournalTranscript.com Networks Disclaimer